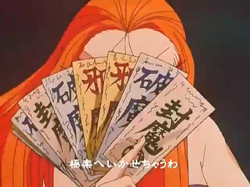 A Talisman (破魔札 Hamafuda, "Exorcism Talisman") is a small piece of paper with varying price and power, such as creating barriers and exorcizing spirits. It can be affixed to an area or spirit, or throw like a weapon. Due to Talismans being made of paper, they are vulnerable to water and fire, and they can be cut. However, some talismans appear to be resistant to those weaknesses, as many talismans are used on Kaieda's submerged ghost submarine.
Ad blocker interference detected!
Wikia is a free-to-use site that makes money from advertising. We have a modified experience for viewers using ad blockers

Wikia is not accessible if you've made further modifications. Remove the custom ad blocker rule(s) and the page will load as expected.