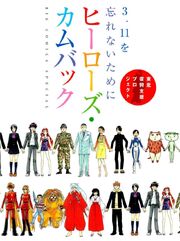 Heroes Comeback (3.11を忘れないために ヒーローズ・カムバック) is a manga book published by Shogakukan on April 30, 2013 to support the reconstruction of the damage caused by the 2011 Tōhoku earthquake and tsunami by donating the book's revenue. It features new stories from manga works that were concluded.
Ghost Sweeper Mikami
Edit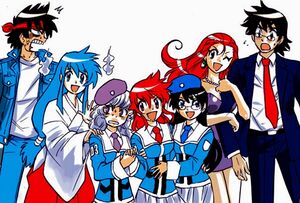 The Ghost Sweeper Mikami story happens before Okinu's revival and features elements from other manga by Takashi Shiina. Reiko Mikami was hired to remove the spirits from an old building, one of them taking Tadao Yokoshima as hostage. The spirit that took Yokoshima is actually Seiryūtō (星龍刀, a prototype of Seiryūto from Ichiban'yu no Kanata), an alien being who makes a deal with him. The two travel to the past, where Yokoshima becomes a powerful feudal lord surrounded by beautiful women. Mikami and Okinu managed to follow them, and they meet Oda Nobunaga (from Mister Zipangu), who asks them to help defeat Yokoshima. After Yokoshima's defeat, they return to the present and Mikami punishes him.