Ghost Sweeper Mikami: Joreishi ha Nice Body
Talk

1
Share
Ad blocker interference detected!
Wikia is a free-to-use site that makes money from advertising. We have a modified experience for viewers using ad blockers

Wikia is not accessible if you've made further modifications. Remove the custom ad blocker rule(s) and the page will load as expected.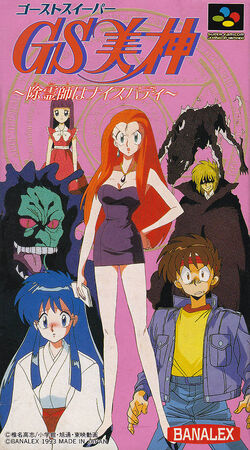 Ghost Sweeper Mikami: Joreishi ha Nice Body (GS美神 〜除霊師はナイスバディ〜) is a platformer video game released only in Japan for the Super Famicom (SFC, SNES outside Japan) in 1993. It was developed by Natsume and published by Banalex.
Stage
Boss
Report 1: 24時発地獄行き幽霊列車
("The Ghost Train Bound for Hell in 24 o'clock")
Ghost Train
Report 2: 洋館は妖館?

Moga-chan
Report 3: 極楽ミクロ決死圏
("Gokuraku Micro Suicide Zone")
Ja Seirei
Report 4: 巨大温室は危険がいっぱい
("Giant Greenhouse Full of Danger")
Kojirou
Report 5: 極楽空軍大作戦
("Gokuraku Air Force Daisakusen")
Count Bloodeau
Report 6: なにかが道をやってきた
("Something Came Down the Road")
Piper
Report 7: ドリーム オン ドリーム
(Dream on Dream)
Nightmare
-
Medusa