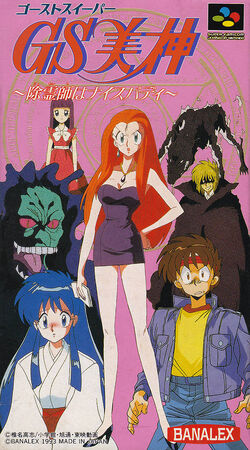 Ghost Sweeper Mikami: Joreishi ha Nice Body (GS美神 〜除霊師はナイスバディ〜) is a platformer video game released only in Japan for the Super Famicom (SFC, SNES outside Japan) in 1993. It was developed by Natsume and published by Banalex.
Stage
Boss
Report 1: 24時発地獄行き幽霊列車
("The Ghost Train Bound for Hell in 24 o'clock")
Ghost Train
Report 2: 洋館は妖館?

Moga-chan
Report 3: 極楽ミクロ決死圏
("Gokuraku Micro Suicide Zone")
Ja Seirei
Report 4: 巨大温室は危険がいっぱい
("Giant Greenhouse Full of Danger")
Kojirou
Report 5: 極楽空軍大作戦
("Gokuraku Air Force Daisakusen")
Count Bloodeau
Report 6: なにかが道をやってきた
("Something Came Down the Road")
Piper
Report 7: ドリーム オン ドリーム
(Dream on Dream)
Nightmare
-
Medusa
Ad blocker interference detected!
Wikia is a free-to-use site that makes money from advertising. We have a modified experience for viewers using ad blockers

Wikia is not accessible if you've made further modifications. Remove the custom ad blocker rule(s) and the page will load as expected.