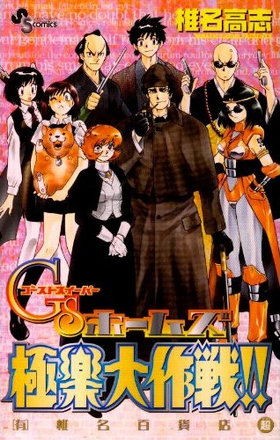 Ghost Sweeper Holmes: Gokuraku Taisakusen!! (GSホームズ 極楽大作戦!!) is a side-story from Ghost Sweeper Mikami that features Sherlock Holmes in London, 1890. Only two stories were made, the first story being published on Monthly Sunday Gene-X in January 2002 and both in the same magazine in June 2006. Later, each story was published alongside other short manga stories by Takashi Shiina in (Yū) Shiina Hyakkaten (Chō) GS Holmes: Gokuraku Taisakusen!! ((有) 椎名百貨店 (超) GSホームズ 極楽大作戦!!, "(Yuugengaisha) Shiina Department Store (Super) GS Holmes: Paradise Epic Battle!!") and (Yū) Shiina Dai Hyakkaten ((有)椎名大百貨店, "(Limited Liability Company) Shiina Large Department Store").
The first story feature Maria and Doctor Chaos. The second story, titled GS Holmes: Gokuraku Taisakusen!! - Chiwosuu Tantei (GSホームズ 極楽大作戦!! 血を吸う探偵, "Blood Sucking Detective"), features Pete.
Ad blocker interference detected!
Wikia is a free-to-use site that makes money from advertising. We have a modified experience for viewers using ad blockers

Wikia is not accessible if you've made further modifications. Remove the custom ad blocker rule(s) and the page will load as expected.