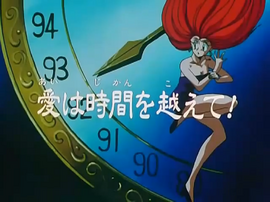 愛は時間を越えて! is the eighth episode of the anime Ghost Sweeper Mikami. It is based on the manga Volume 2 Report 5 and Volume 2 Report 6. It first aired in Japan on May 30, 1993.
Doctor Chaos uses a potion in a cake and asks Maria to give to Reiko Mikami. When the cake is eaten, it will completely erase Mikami's existence from the world. Mikami notices something is wrong with the cake, but Tadao Yokoshima eats it and Mikami searches for a cure before something happens to him. She discovered what potion he got and says it will erase his existence and has no cure, but there is one way to avoid his fate. As Yokoshima begins to vanish, she says Yokoshima must revive a striking experience he had 24 hours before eating the cake, and Yokoshima remembers Mikami kissed him in an accident, but there is no way she would agree kissing him. Yokoshima returns to the events from episode 1 and tries to convince Mikami to kiss him, but has no success (except for his disgust accidentally kissing the Hot Spring Ghost) and returns further in time. Yokoshima is in school and goes to Mikami's house, but she didn't bought the building yet and he believes everything is lost, starting to cry. However, a teenager Mikami passes behind him.
Ad blocker interference detected!
Wikia is a free-to-use site that makes money from advertising. We have a modified experience for viewers using ad blockers

Wikia is not accessible if you've made further modifications. Remove the custom ad blocker rule(s) and the page will load as expected.