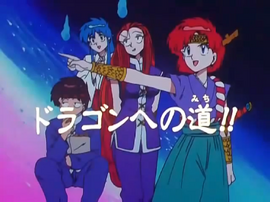 ドラゴンへの道!! is the 23th episode of the anime Ghost Sweeper Mikami. It is based on the manga Volume 4 Report 2, Volume 4 Report 3 and Volume 4 Report 4. It first aired in Japan on September 19, 1993.
Reiko Mikami, Tadao Yokoshima and Okinu take care of a spiritual being, but Mikami is injured. Mikami talks with Father Karasu about the spirits becoming stronger and decides to train in Myoujinsan to increase her powers. In the mountain she meets Shōryūki, a dragon goddess that will train her.
Ad blocker interference detected!
Wikia is a free-to-use site that makes money from advertising. We have a modified experience for viewers using ad blockers

Wikia is not accessible if you've made further modifications. Remove the custom ad blocker rule(s) and the page will load as expected.