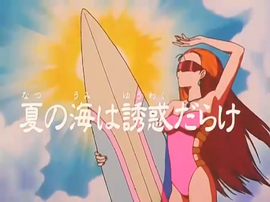 夏の海は誘惑だらけ is the 17th episode of the anime Ghost Sweeper Mikami. It is based on the manga Volume 1 Report 7. It first aired in Japan on August 1, 1993.
A monster is rumored to be appearing in a hotel near a beach and Reiko Mikami is hired to investigate. While in the beach, Tadao Yokoshima tries to get a woman and has no luck, until a woman named Namiko appears and invites him for dinner. During the dinner, Yokoshima discovers Namiko is a mermaid and has children with a Merman that was looking for her in the hotel.
Ad blocker interference detected!
Wikia is a free-to-use site that makes money from advertising. We have a modified experience for viewers using ad blockers

Wikia is not accessible if you've made further modifications. Remove the custom ad blocker rule(s) and the page will load as expected.