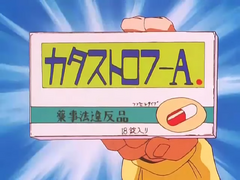 Catastrophe-A (カタストロフ-A) is a medicine forbidden by the Pharmaceutical Affairs Act (as noted in the box: "薬事法違反品") that appeared in Report 18 (episode 12 in the anime). Possibly costs over 10 million yen, and comes with 12 pills per sheet. It is unknown if there is more than one sheet of pills in a box. Yakuchin had some in his shop and "kindly" gives a box to Yokoshima for free, actually wanting to test if there are no side effects so he can sell it on his shop.
One pill of Catastrophe-A is able to greatly enhance spiritual powers for 300 seconds (5 minutes), turning even a normal human into an esper. When activated, turns the user's pupils into slits like cat eyes. Using a large amount of power causes the user to emanate aura and makes the hair blonde. Powers include teleportation, the ability to see distant places with the mind, a mind ray, and explosive blasts which are dangerous at close range. There might be other powers possible. A known side effect is that it may leave the user empty-headed for an undetermined time, lasting for several days on Yokoshima. It apparently happens due to the great power backfiring on the user. In the anime this side effect appears to only happen with overdose.
Ad blocker interference detected!
Wikia is a free-to-use site that makes money from advertising. We have a modified experience for viewers using ad blockers

Wikia is not accessible if you've made further modifications. Remove the custom ad blocker rule(s) and the page will load as expected.